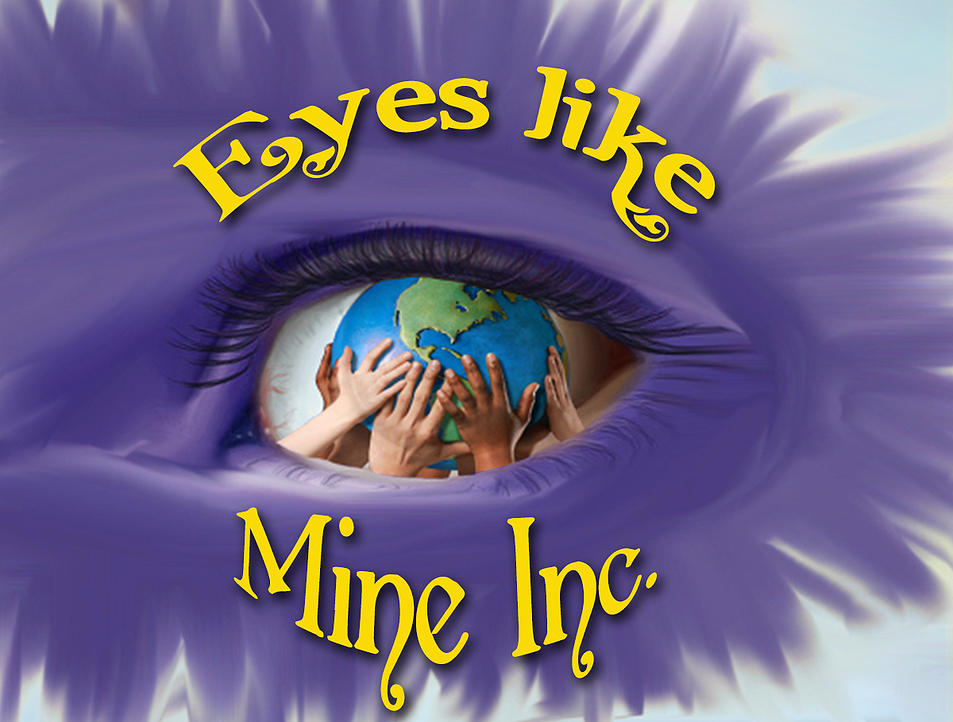 Where Vision Loss Doesn't Break Us, It Build Us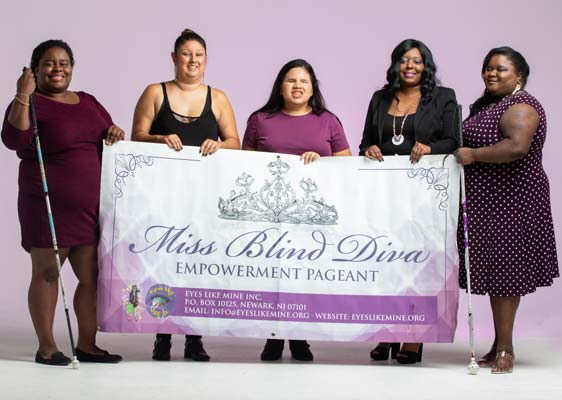 About Us
Eyes Like Mine Inc. is a non profit 501-C3 organization established in March of 2014 in Newark, New Jersey. It was founded by Krystle Allen, a Newark native, to empower, enlighten, and innovate communities in New Jersey about vision loss and the available resources for people with vision loss. At it's inception, Elm Inc. was founded with the help of Naquela Wright and Ihsaan R. Muhammad Esq., along with the founder Krystle Allen to introduce a unique pattern of advocacy for individuals who are vision impaired or blind.
Our Mission
To share awareness about the abilities and potentials of individuals with vision loss through advocacy and community outreach, comprehensive empowerment workshops, and awareness events.
Our Vision
To inspire advocacy by breaking down the societal barriers placed against individuals who are previously or currently experiencing vision loss. Our ultimate goal is to create a more accessible society for individuals who are vision impaired and blind so that they can live, learn, and work in equal opportunities.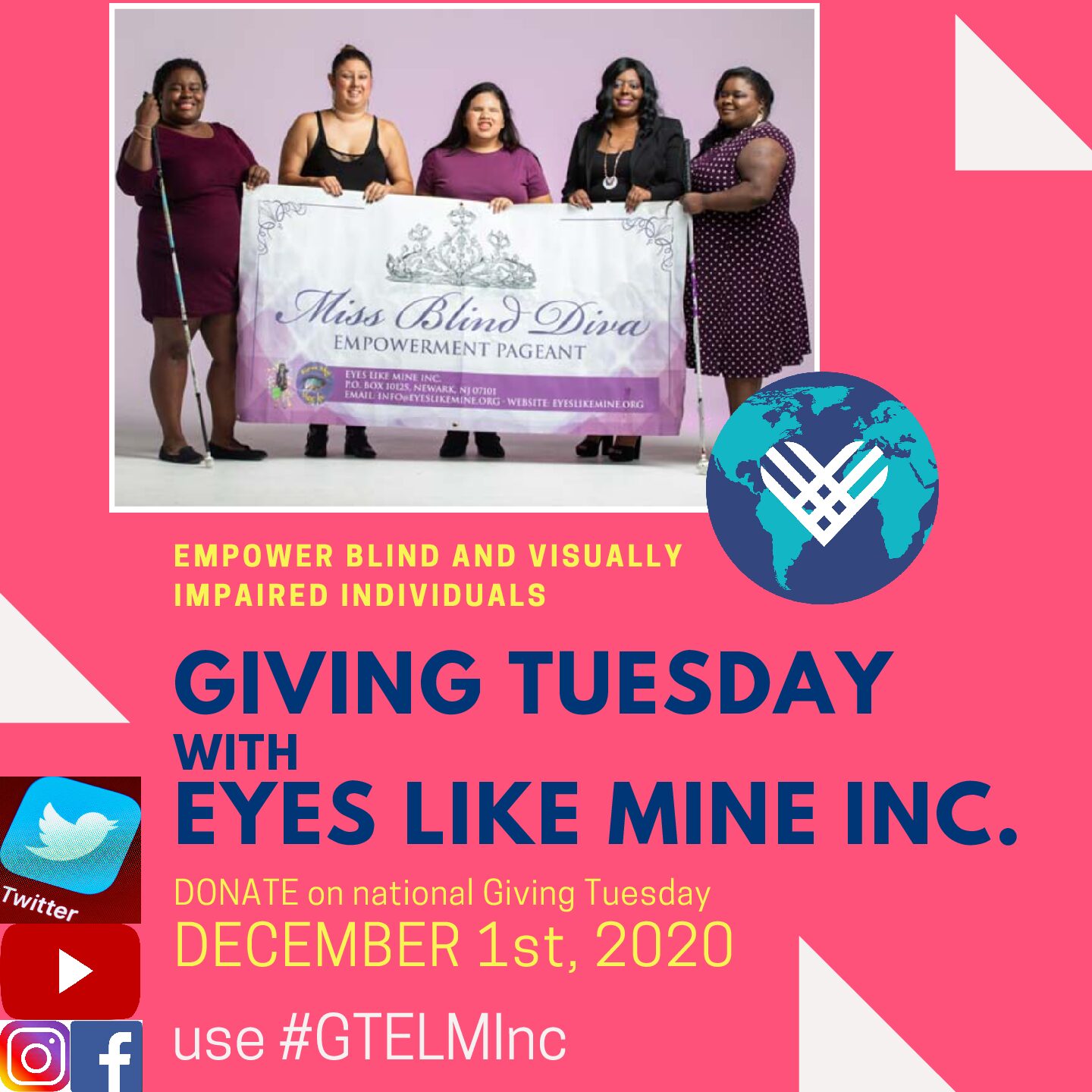 December 1st, 2020
Empower Blind and Visually Impaired Individuals 
Donate on National Giving Tuesday
Use #GTELMInc
Follow us @EyesLikeMineInc on YouTube, Facebook, Instagram, and Twitter now!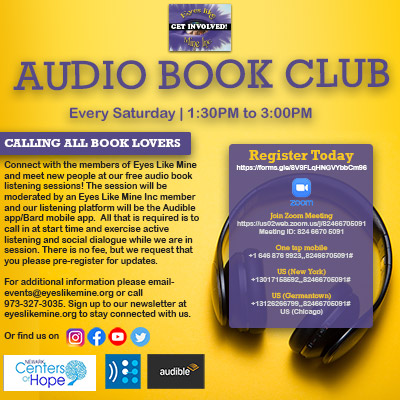 Every

Saturday

| 1:30PM-3:00PM
Calling all book lovers!
Connect with the members of Eyes Like Mine and meet new people at our free audio book listening sessions! The session will be moderated by an Eyes Like Mine, Inc. members and our listening platform will be the Audible app/Bard mobile app. All that is required is to call in at start time and exercise active listening and social dialogue while we are in session. There is no fee, but we request that you please pre-register for updates.
For additional information, please email events@eyeslikemine.org or call 973-327-3035. Sign up to our newsletter below tp stay connected with us or find us on Instagram, Facebook, Youtube, or Twitter!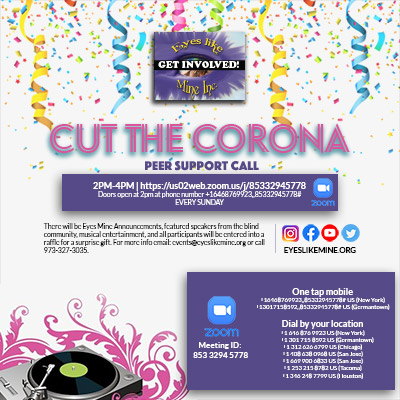 Cut The Corona
Peer Support Call
Every Sunday at 2pm, Phone number 1-978-990-5223, Access code: 2561166. 
There will be Eyes Mine Announcements, featured speakers from the blind community, musical entertainment, and all participants will be entered into a raffle for a surprise gift. For more info email: events@eyeslikemine.org or call 973-327-3035.
Eyes Like Mine Latest Newsletter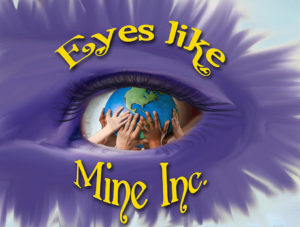 Support Eyes Like Mine
If you believe in our mission and would like to support the work we do, you can do so by making a donation today. No amount is too small!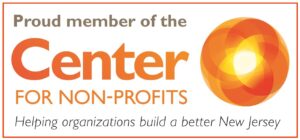 Peer Support Group Speakers of 2020
Gabrielle White
Brittney Pollins
Marvin Griffin
Gabriella Mendonca
Monique Coleman
Bernice Davis
Rob Evans
Sandra Guzman
Brandon Scott
Naquela Wright
Jeanetta Price
Goddest Johnson
Tekesha Saffold
Joanna Benthol
Richard Whitten
Linda Melendez
Javier Robles
Lachi
Marilee Talkington
Joe Ruffalo
Libra Robinson
Patrick Lafayette
Kirk Adams
Roger Walker-Hariis
Mildred C Crump
Luz Gonzalez
Ben Fox
Rick Fox
Alba Milla
Everly Hairston
Eve Posner
Myles Williams
Alex Cohen
Lavita Johnson
Andrea Mason
Ras Baraka
Sandra Pajaro
Spencer Frankeberger
James Jacey
Kacy O'Brien
Isabella Rojas
Britney Culp
Sherel Beslanovitz 
Rosa Ramos
Derique Simon
Trisha Ebel
Delrick Pollins
Christine Washburn
Alvin Suarez
Patricia Zagarella
Veronica Gaspa
Ezelle Clark
Kevin Sisco
Ezekiel Johnson
Will Butler
Shauna Jatho
Susan Vanino
Claudia Schreiber
Anthony Oropeza
Thyson Halley
Donna Rena Walton
April Lifru
Janel Santana
Elisabetta Kasper
Elizabeth T
Karin Johnson
Freky Andrew-Essien
Kamille Richardson
Doretha Smith
Johnesia McKenzie