Vision loss does not break us; it builds us!
#GoingGrowingGlowing
Home of Dancing With The Blind and Ms. Blind Diva Empowerment Pageant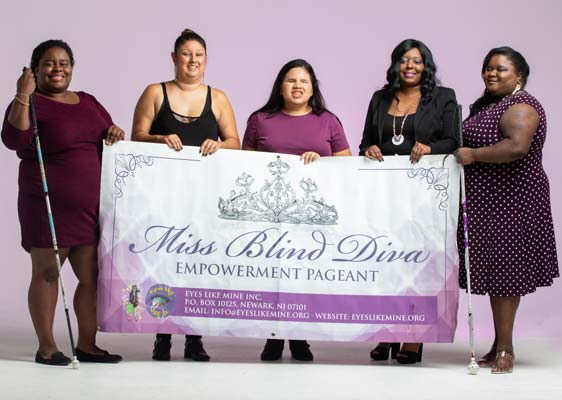 About Us
Eyes Like Mine Inc. is a non profit 501-C3 organization established in March of 2014 in Newark, New Jersey. It was founded by Krystle Allen, a Newark native, to empower, enlighten, and innovate communities in New Jersey about vision loss and the available resources for people with vision loss. At it's inception, Elm Inc. was founded with the help of Naquela Wright and Ihsaan R. Muhammad Esq., along with the founder Krystle Allen to introduce a unique pattern of advocacy for individuals who are vision impaired or blind.
Our Mission
Our mission is to raise awareness about the abilities and potential of individuals with vision loss through community service initiatives, comprehensive empowerment workshops, and innovative social change awareness events.
Our Vision
To inspire advocacy by breaking down the societal barriers placed against individuals who are previously or currently experiencing vision loss. Our ultimate goal is to create a more accessible society for individuals who are vision impaired and blind so that they can live, learn, and work in equal opportunities.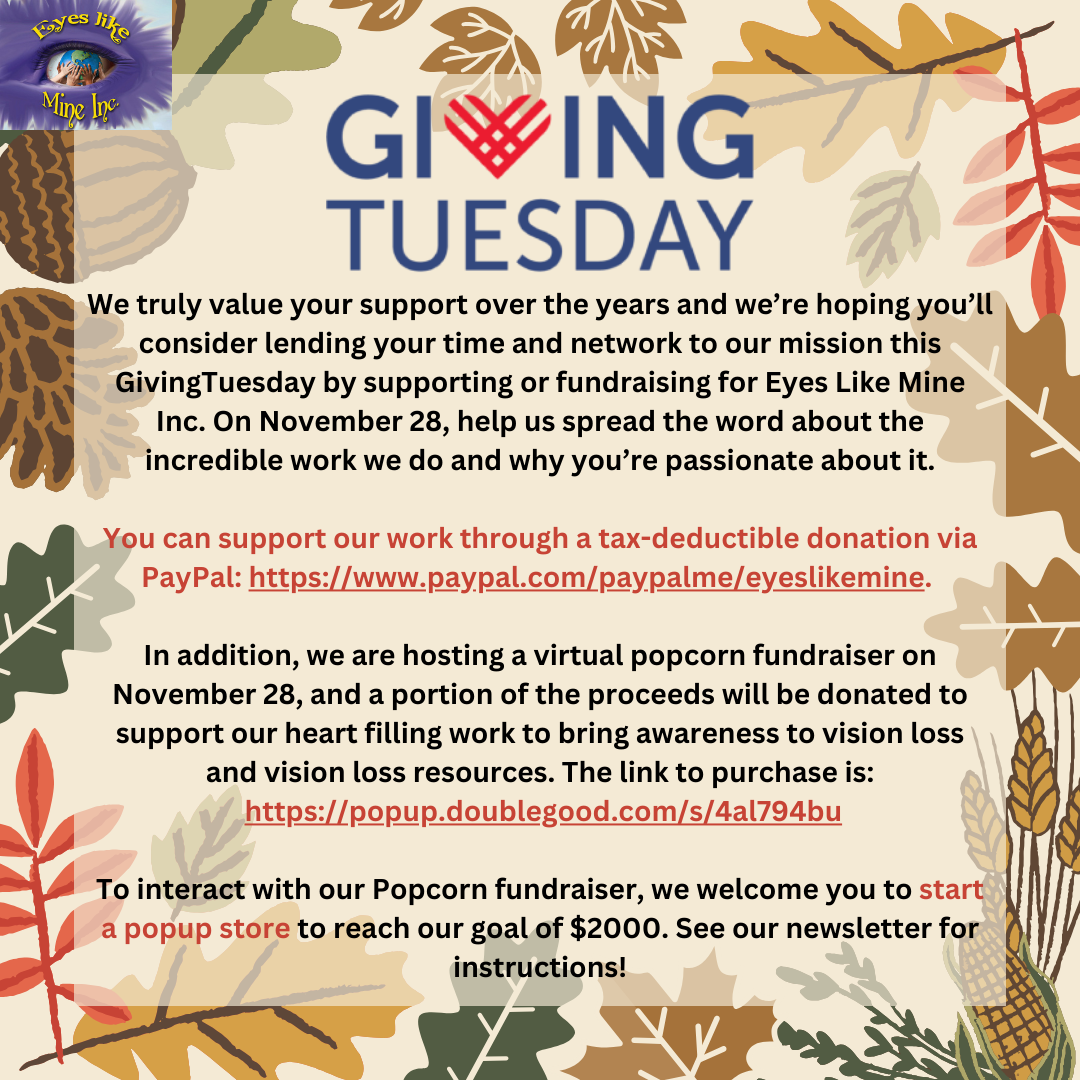 We truly value your support over the years and we're hoping you'll consider lending your time and network to our mission this GivingTuesday by supporting or fundraising for Eyes Like Mine Inc. On November 28, help us spread the word about the incredible work we do and why you're passionate about it.
We are hosting a virtual popcorn fundraiser on November 28, and a portion of the proceeds will be donated to support our heart filling work to bring awareness to vision loss and vision loss resources. The link to purchase is: https://popup.doublegood.com/s/4al794bu
To interact with our Popcorn fundraiser, we welcome you to start a popup store to reach our goal of $2000. Check our newsletter for instructions!
Accessible Pharmacy's Blind Health Expo 2023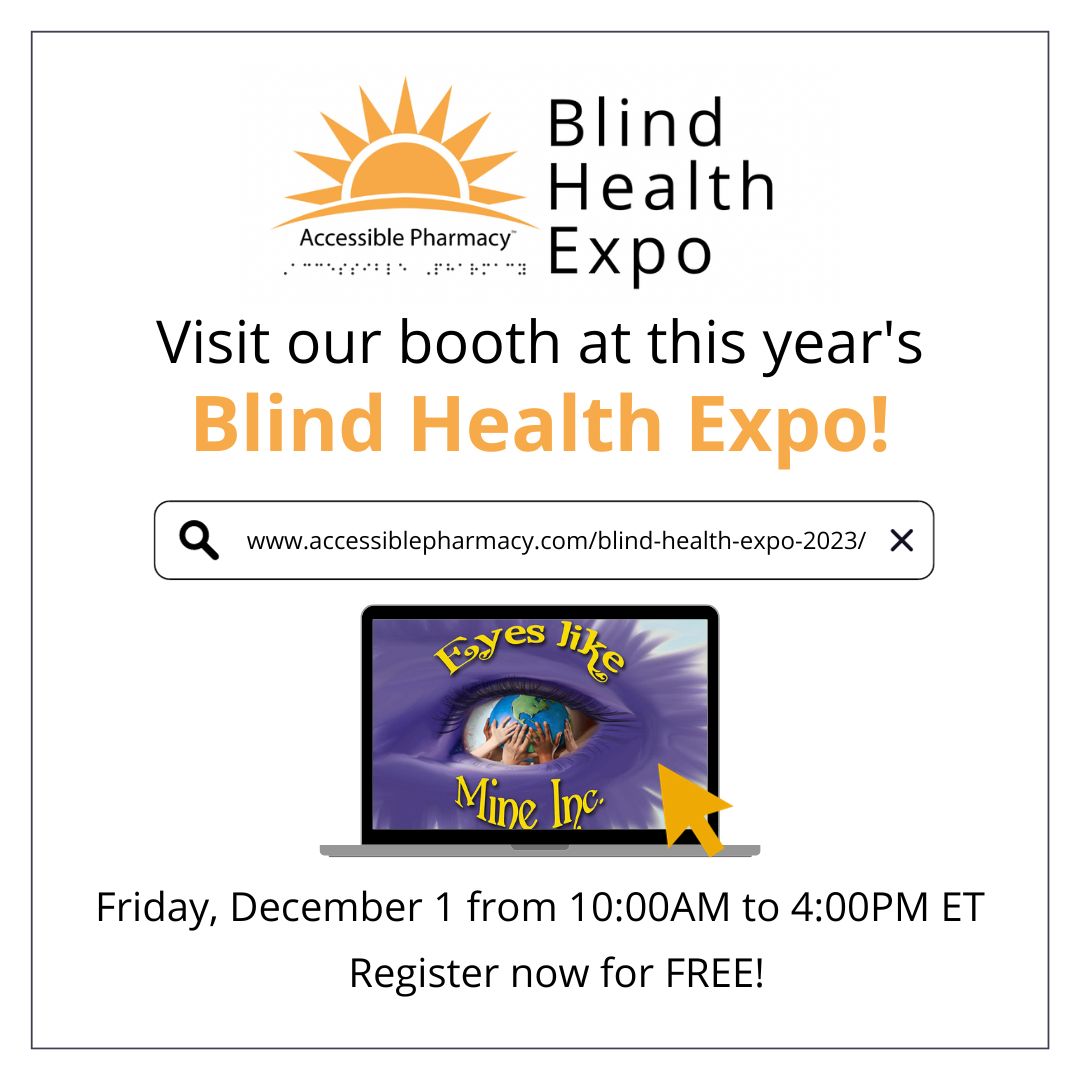 Eyes Like Mine is exhibiting at Accessible Pharmacy's Blind Health Expo 2023. The Blind Health Expo will be the largest virtual expo of healthcare information for individuals who are blind, DeafBlind or have low vision.
#BlindHealthExpo
Date: Friday, December 1st , 2023
Time: 10:00AM to 4:00PM
Venue: Virtual
To register to attend for free, come speak to us, and check out our booth, please visit:
https://www.accessiblepharmacy.com/blind-health-expo-2023/
Miss Blind Diva Empowerment Pageant 2023 Road Map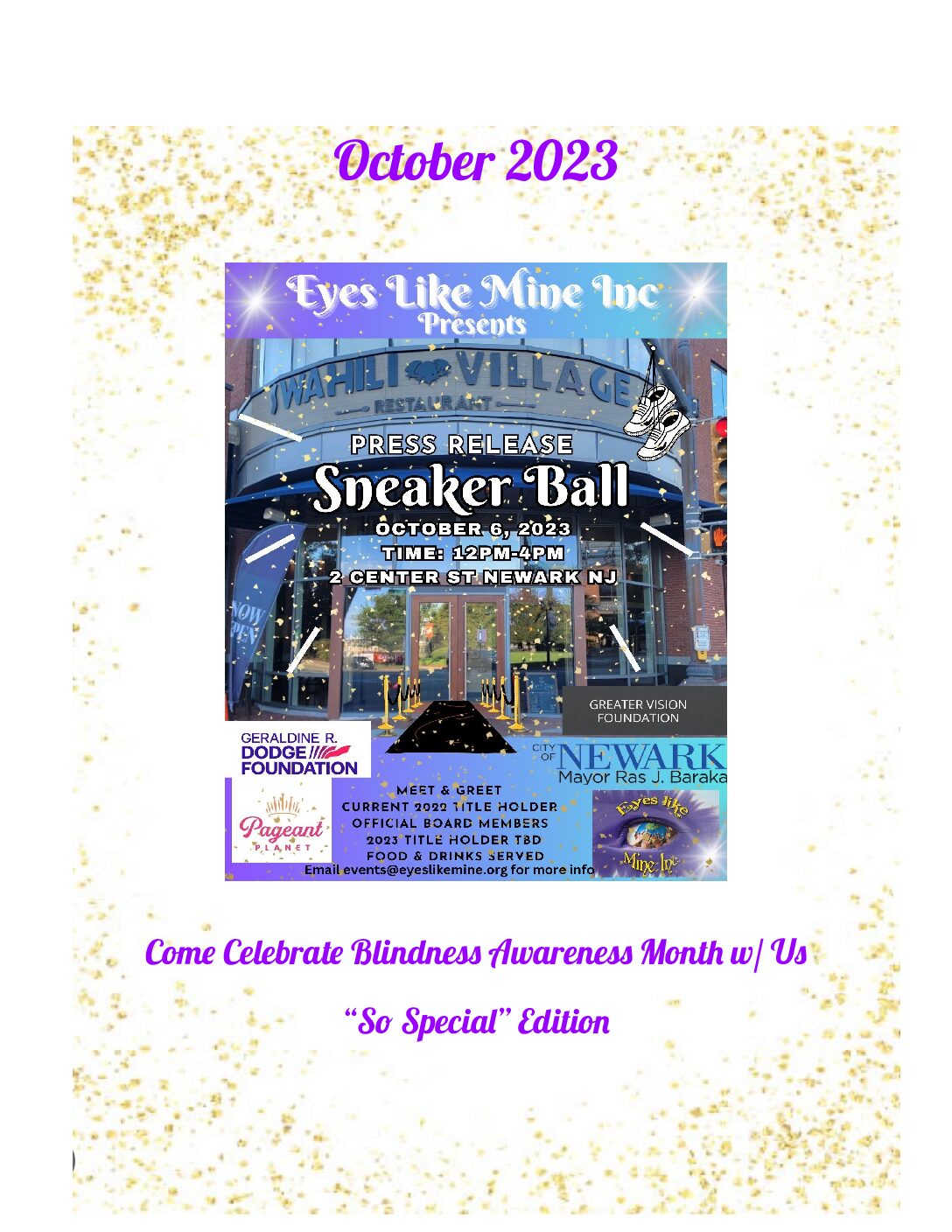 Miss Blind Diva Empowerment Pageant 2023
Eyes Like Mine Inc. presents The Finding Miss. Blind Diva Empowerment Pageant in partnership with Newark Museum of Art. #GOING #GROWING #GLOWING 
The "So Special" Edition Advance Tickets: $25 (until October 1st, 2023)
Tickets at the Door: $75
Eye Screening for Ice Cream Meetup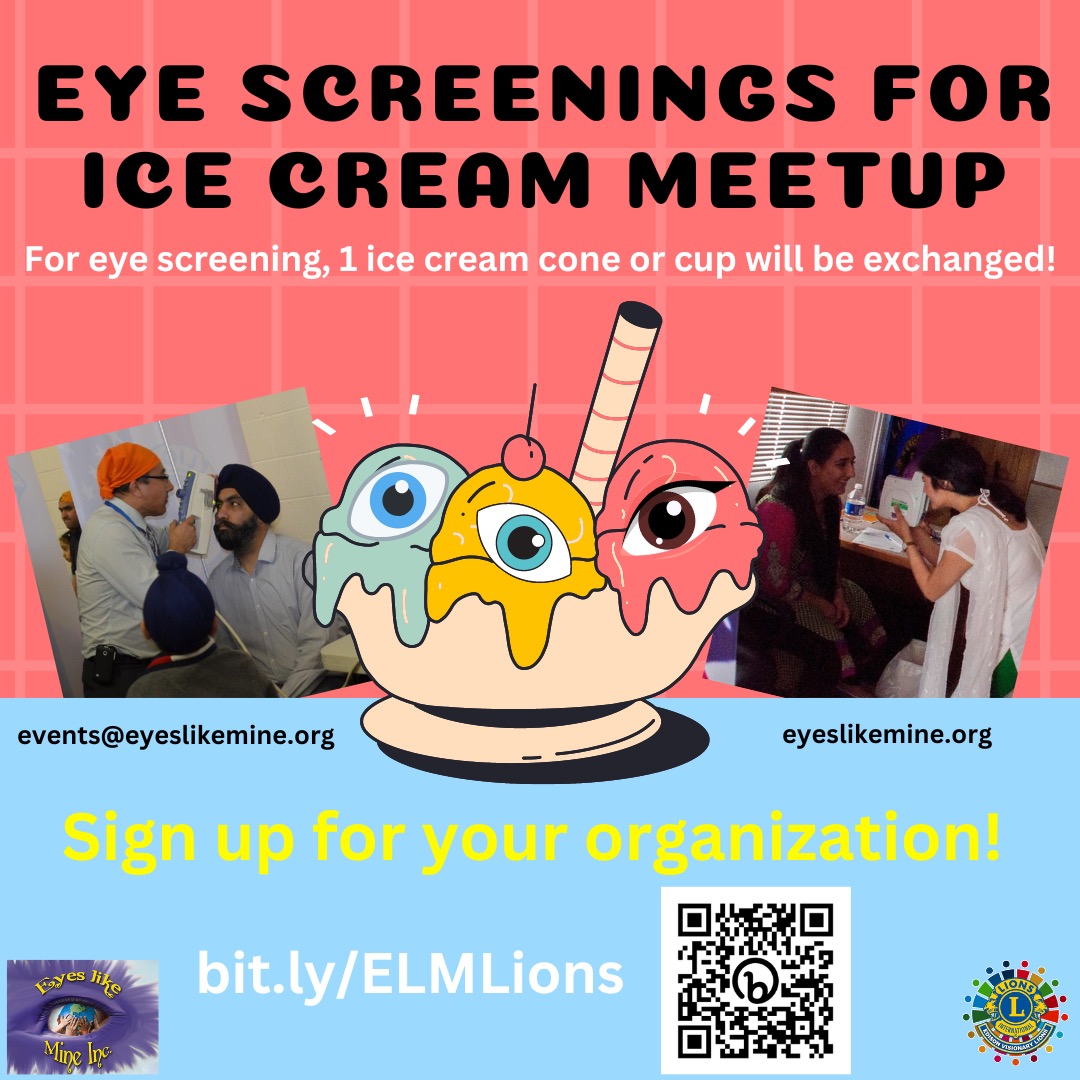 Eyes Like Mine is organizing Eye Screening with Ice Cream Meetup in partnership with Edison Visionary Lion's Club. For eye screening, 1 ice cream cone or cup will be exchanged! Sign up for your organization! For making a request eye screening contact us at events@eyeslikemine.org 
Click the button below to transfer/donate Miles to Eyes Like Mine Campaign if you are already a member with United Airlines Sign in or if not then Sign Up today.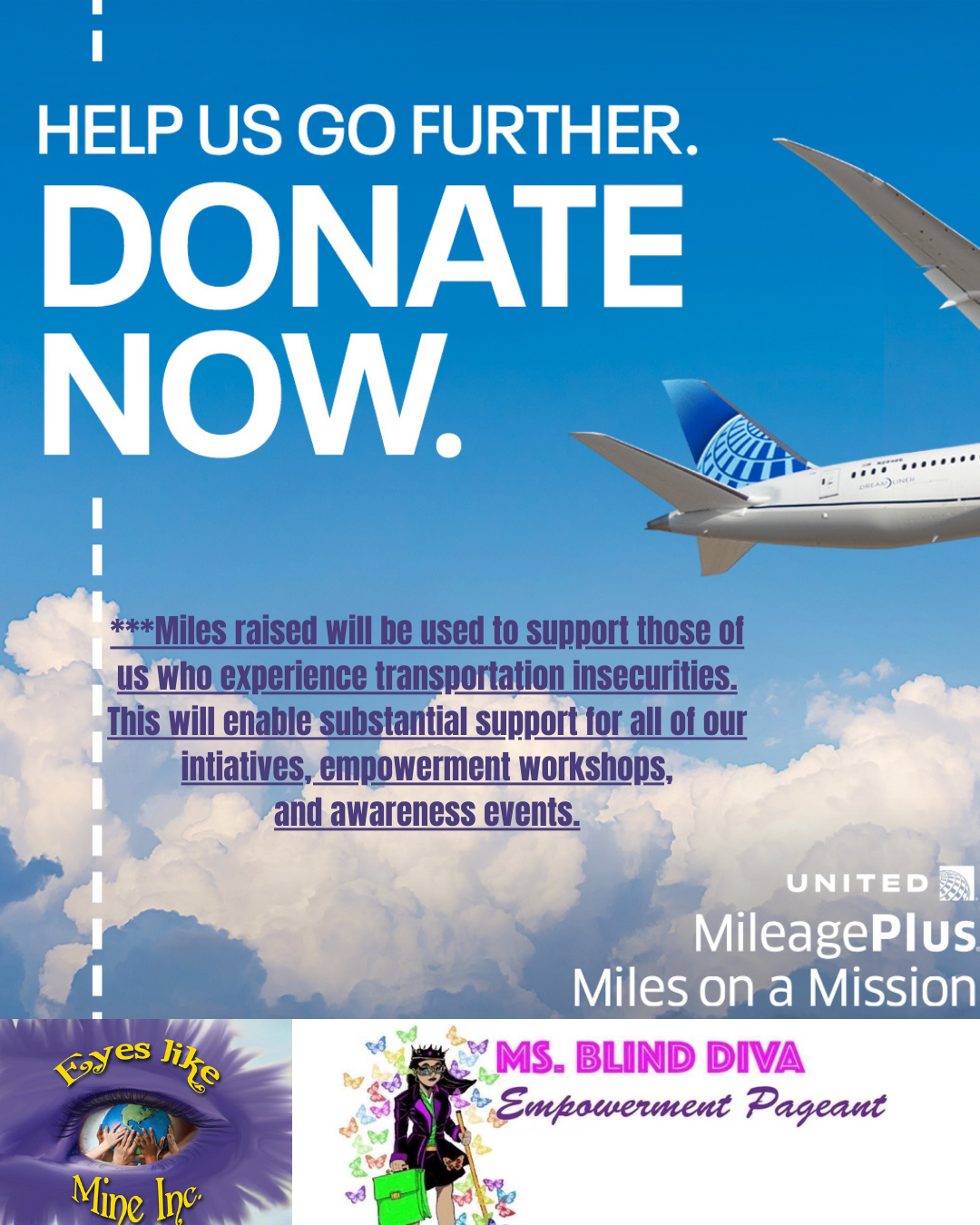 If you wish to simply donate for Campaign without becoming a member with United Airlines please select DONATE NOW. All donations will be transferred to our campaign by the organization. We sincerely thank you for your support!
2023 Disability Pride Inaugural Photoshoot
Eyes Like Mine organized 2023 Disability Pride Inaugural Photoshoot in partnership with Edison Visionary Lions Club, Shine Portrait Studio and Eye Love Eyewear Collection
Reflection of Dancing with the Blind 2017
Here's a delightful throwback to Dancing with Blind 2017, featuring our President, Krystle Allen, and the 2016 Champion, Brandon Scott, both of whom are visually impaired. They mesmerized the audience with their enchanting salsa dance to the rhythms of 'Vivir Mi Vida' by Marc Anthony.
Miss Blind Diva Meeting Schedule 2024
 January 1 8 15 22 29
 February 5 12 19 26
 March 4 11 18 25
 April 1 8 15 22 29
 May 6 13 20 27
 June 3 10 17 24 31
 July 1 8 15 22 29
 August 5 12 19 26
 September 2 9 16 23 30
 October 7 14 21 28
 November 4 11 18 25
 December 2 9 16 23 30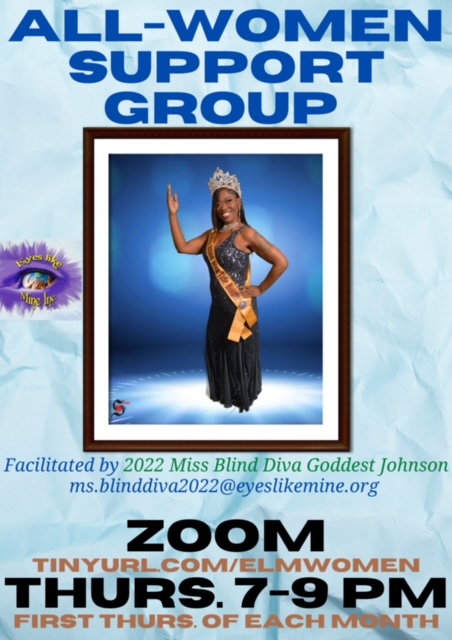 Eyes Like Mine presents an All-Women Support Group. We invite you to join us every second Thursday of the month. Meetings take place from 7 PM – 9 PM EST on Zoom, click the below button to join.  
Women Support Group Schedule:
January 4
 February 1
 March 7
 April 4
 May 2
 June 6
 July 4
 August 1
 September 5
 October 3
 November 7
 December 5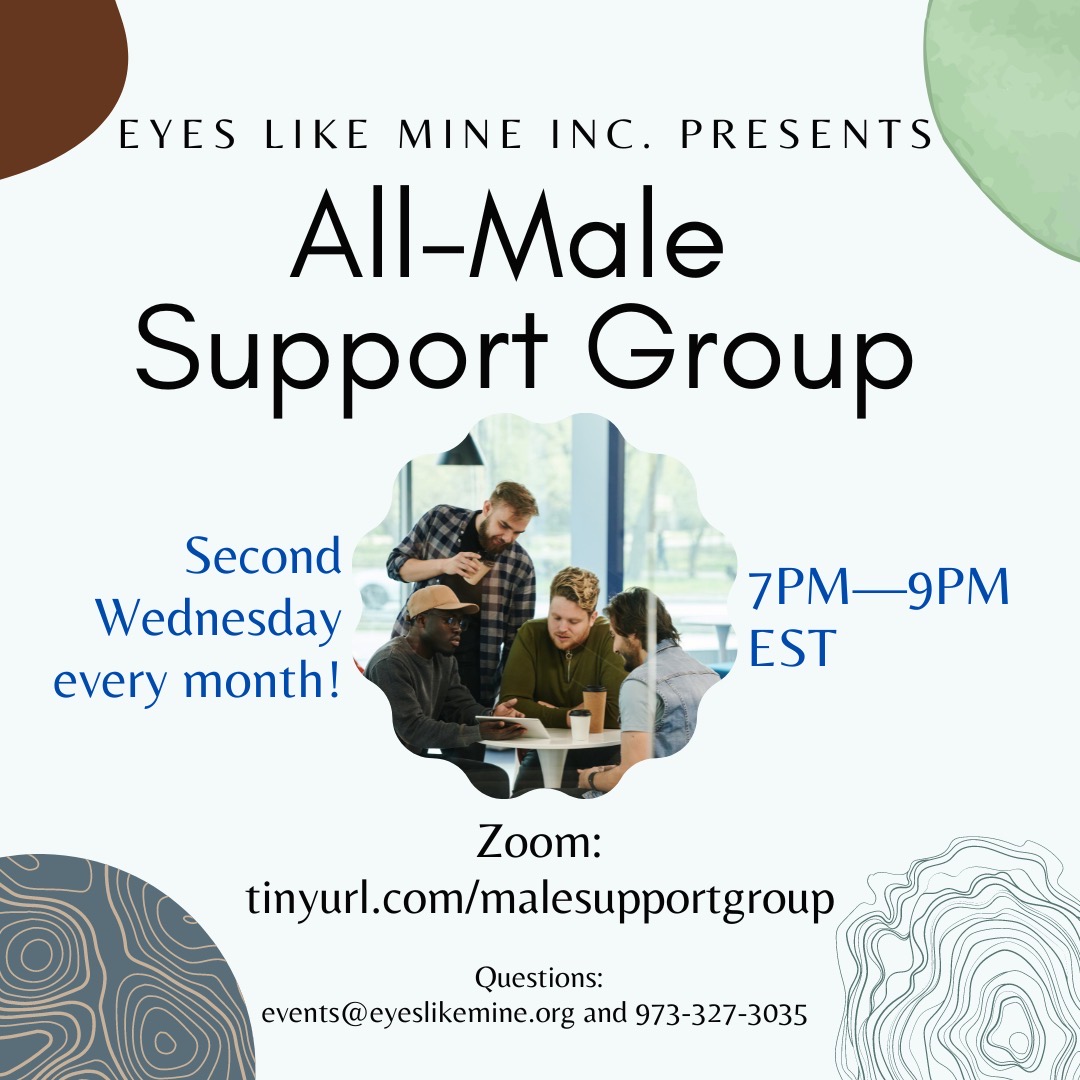 Eyes Like Mine Inc. presents an All-Male Support Group. We invite you to join us every second Wednesday of the month. Meetings take place from 7 PM – 9 PM EST on Zoom, click the below button to join.  
 Men Support Group Schedule:
January 10
February 13
March 13
April 13
May 8
June 12
July 10
August 7
September 11
October 9
November 13
December 11
  
Men and Women Support Group Schedule
Crushing it in the Kitchen Schedule
January 10
March 13
May 8
July 10
September 11
November 13
January 5 12 19 26
February 2 9 16 23 3
March 1 8 15 23 30
April 5 12 19 26
May 3 10 17 24 31
June 7 14 21 28
July 5 12 19 26
August 2 9 16 23 30
September 6 13 20 27
October 4 11 18 25
November 1 8 15 22 29
December 6 13 20 27
Congratulations to Ms. Blind Diva 2023, Kiana Vion Glanton!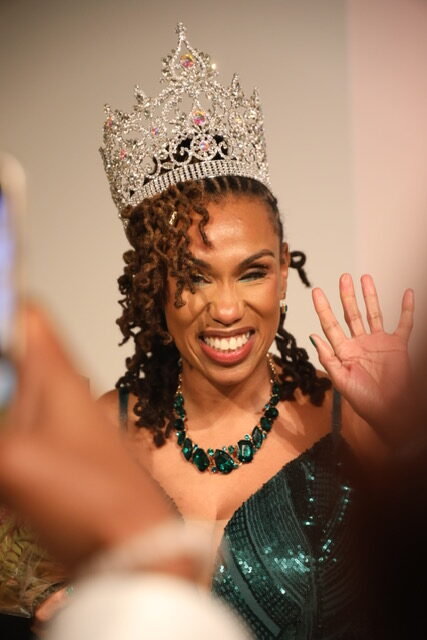 Kiana Vion Glanton is a graduate of Stony Brook University She is an essential member of the Fundraising and Developmentteam at Lighthouse Guild, a non -profit organization supporting the blind and low vision community through medical vocational and rehabilitation services. At Lighthouse Guild, Kiana is the lead advocate and ambassador for Adaptive Athletics. She is the current Secretary for the U.S. Blind Baseball Association and is the current Co-Captain of the Lighthouse Guild Lightning blind baseball team. Kiana holds the distinction of being the only Black woman to earn a medal for the U.S.A. in any world championship for Blind Baseball (Bronze medal 2022 Beek, Netherlands). Most notably, Kiana is the proud mother of one exceptional child, her 8 year-old Kali J. Vion. Kiana credits Kali as the driving force for entering and winning the 2023 Miss Independent Challenge and 2023 Miss Blind Diva Pageant. She is quoted as saying, "I wear this crown so that she can visualize what is possible when a D.I.V.A. Diligence, Integrity, Vivaciousness and Authenticity, puts on her own crown."
 Ms. Blind Diva 2022, Goddest Johnson.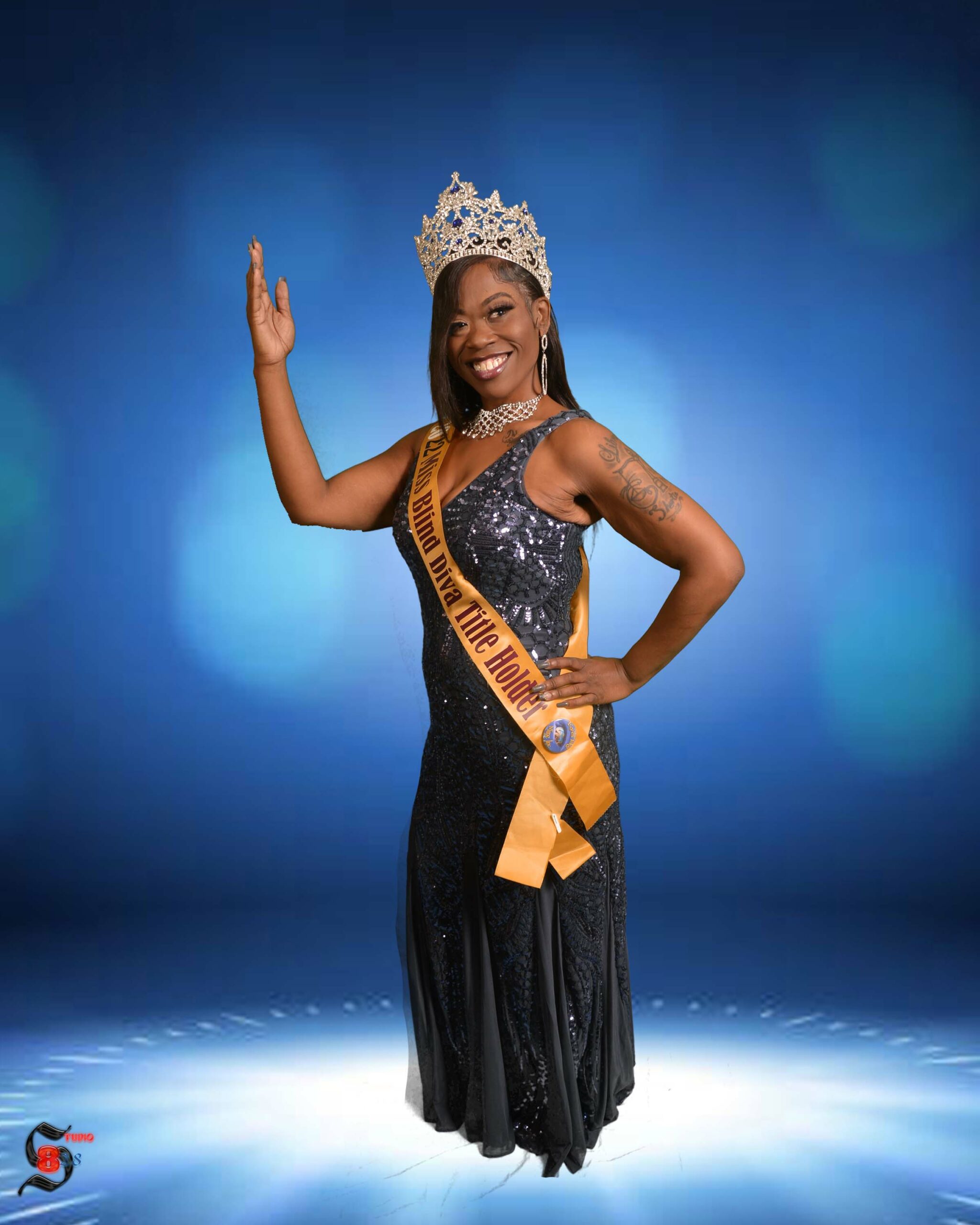 Goddest is well known as "FIGHT" (Faith Is Getting Her Through).  Goddest soul provides a real-life comprehensive perspective or living an independent successful life beyond vision loss as she utilizes comprehensive skill training classes, resource training, community outreach events to educate as well as motivate and show what is possible to blind and visually impaired adults and children by allowing them to live a productive and independent life beyond vision loss.
Goddest travels the world and has done speaking engagement.  May 15, 2022, she received an honorary and was the only honorary who was asked to speak to over 500 Women at "Women Of Orlando luncheon ("Orem by Monique Scott Nichols"). Many of her friends flew from various areas in the United States to see her speak that sold out the event.  Rising above expectations is something that comes as no obstacle to Goddest.  Goddest was born in September 1980 and spent the early part of her childhood residing in Chicago Illinois with her mother; a single parent who suffered from mental illness and a severe drug addiction.  Goddest was the oldest of her four siblings in which her childhood took a major change when she was seven years old and her mother went to prison for life. At the most trying time in her life at this point she began her journey as becoming a client of the foster care system.  By the age of 15, Goddest has had already live in over nine different foster homes and 11 different group homes. Due to several different circumstances Goddest has made the decision to become emancipated at the age of 16 and take on the responsibility of an adult.
Later she became the sole guardian of her sister and was determined to show her what could be possible with determination and staying focused. To set this example Goddest became the first one of her siblings to graduate from high school. When Goddest was 21 years of age her younger brother went to prison and was given 44 years, this left her devastated but shined a new light towards her future. At this point she was determined to keep reaching out and breaking the cycle to give others hope and something to look up to.  Goddest, went on to obtain her bachelor's from NOVA Southeastern University which was one of the greatest accomplishments.  Goddest needed a way to give back so becoming a nurse only seemed like a perfect idea to her.  Perfect until life took another unexpected turn in February 2009.  Goddest was involved in a tragic car accident which left her legally blind.  In spite of all of Goddest obstacles that she face, the proudest moment was when she met the mother of NBA All-Star Shaquille O'Neal (Shack) Lucille O'Neil who interviewed her and was brought to tears while she stated to Goddest that Goddest was her inspiration and how Goddest touched her life in a major way by giving her the motivation to press through when most people did not know that she was struggling with her own visual impairment.  Goddest shared that Lucille O'Neil was the first person who inspired her to share her story and she has been doing so since.
This amazing woman of God has many amazing stories that put tears to the eyes of the listener when she speaks."
Congratulations to Ms. Independent 2022, Talia Woodard!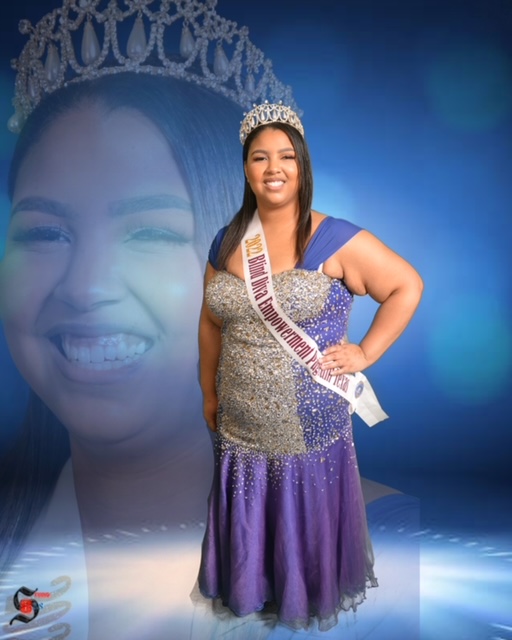 Talia Woodard is a licensed massage therapist specializing in pregnancy massage. Talia enjoys reading, swimming, and cooking. Talia has a passion for advocating for the blind and is actively involved in many organizations that cater to the needs of the blind and visually impaired. Talia aims to inspire others, specifically those in the blind community that the possibilities are endless!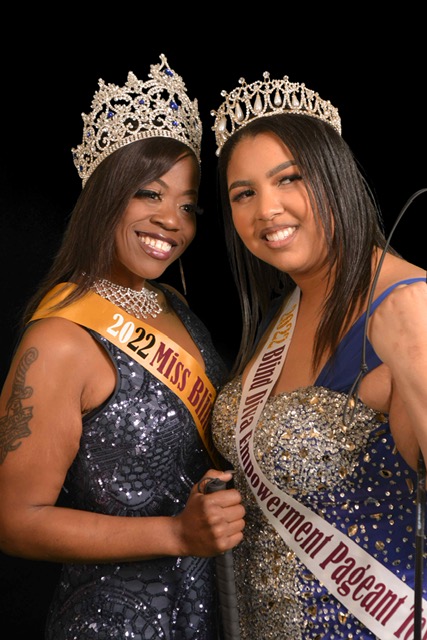 Goddest Johnson, Miss Blind Diva 2022 and Talia Woodard, Miss Independent 2022
Volunteer Internship Opportunity
Interested in our organization activities and want to be a part of Eyes Like Mine Inc?
Please fill out the volunteer internship application now and be a part of our Eyes Like Mine Inc mission.
Eyes Like Mine Latest Newsletter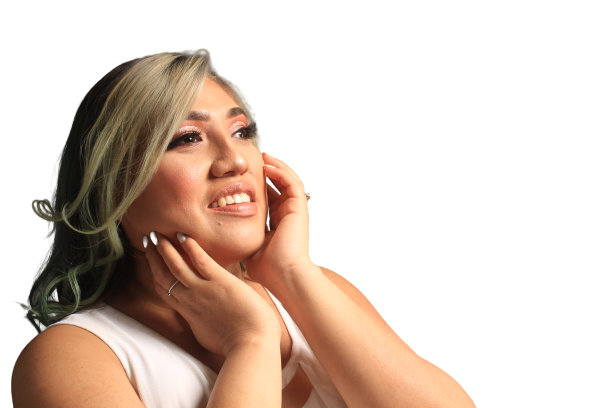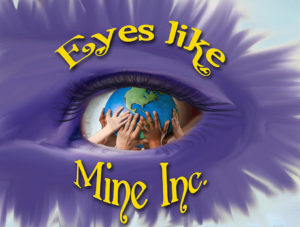 Support Eyes Like Mine
If you believe in our mission and would like to support the work we do, you can do so by making a donation today. No amount is too small!