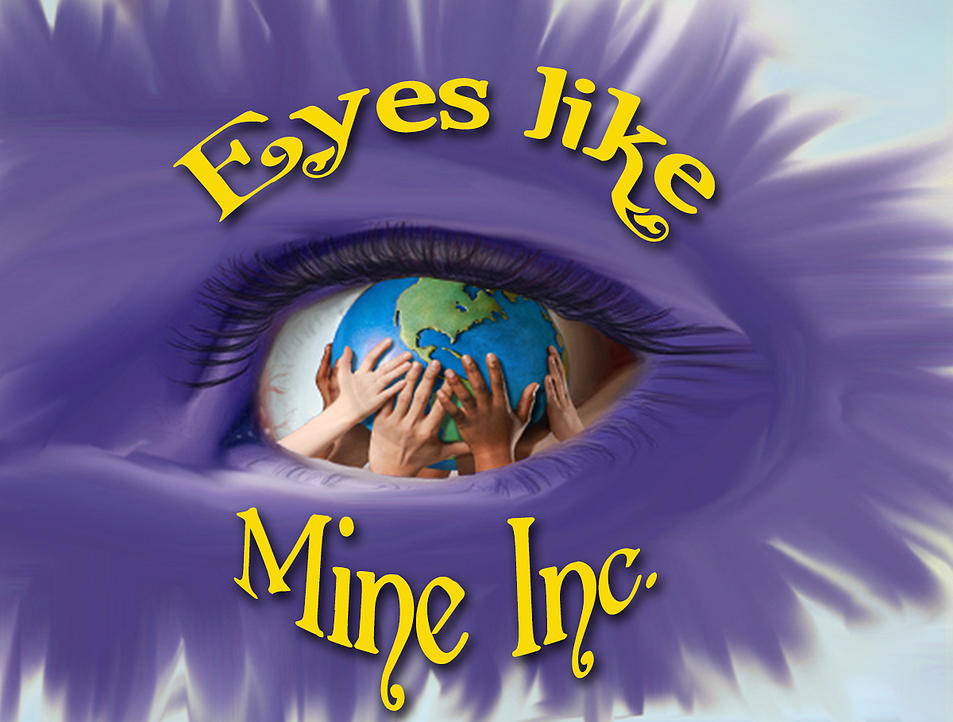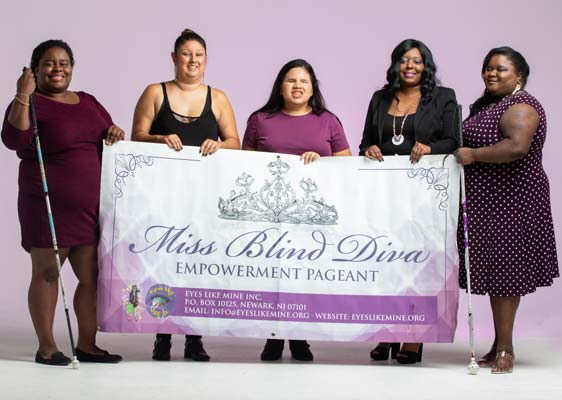 About Us
Eyes Like Mine Inc. is a non profit 501-C3 organization established in March of 2014 in Newark, New Jersey. It was founded by Krystle Allen, a Newark native, to empower, enlighten, and innovate communities in New Jersey about vision loss and the available resources for people with vision loss. At it's inception, Elm Inc. was founded with the help of Naquela Wright and Ihsaan R. Muhammad Esq., along with the founder Krystle Allen to introduce a unique pattern of advocacy for individuals who are vision impaired or blind.
Our Mission
To share awareness about the abilities and potentials of individuals with vision loss through advocacy and community outreach, comprehensive empowerment workshops, and awareness events.
Our Vision
To inspire advocacy by breaking down the societal barriers placed against individuals who are previously or currently experiencing vision loss. Our ultimate goal is to create a more accessible society for individuals who are vision impaired and blind so that they can live, learn, and work in equal opportunities.
Dancing With The Blind Info Session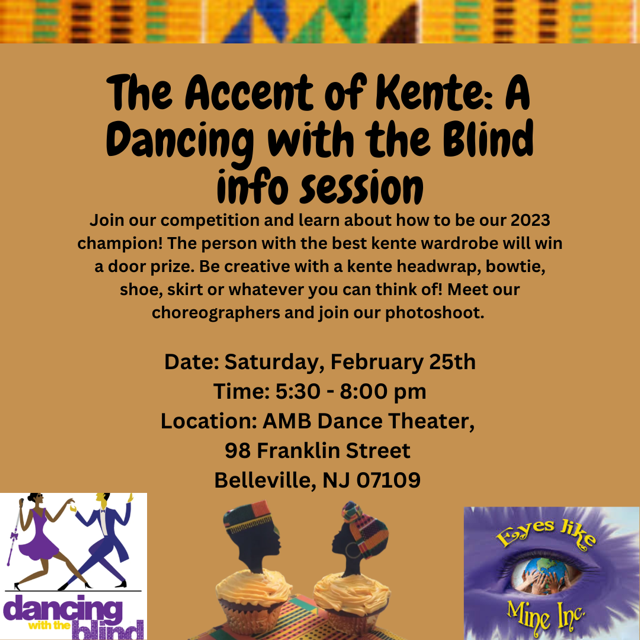 The Accent of Kente: A Danicing with the BLind info session. Join our competition and learn about how to be our 2023 champion! The person with the best kente wardrobe will win a door prize. Be creative with a kente headwrap, bowtie, show, skirt or whatever you can think of! Meet our choreographers and join our photoshoot.
Please nominate someone who is vision impaired or blind and who you believe would be good fit for our Dancing With The Blind event. Link to the Eyes Like Mine Inc. 2023 Dancing With The Blind nomination form below.  We are also seeking the best voiceover and audio description narrators for the main competition that will be held on 4/28/23. Please submit a one minute or less audio clip of yourself announcing the return of Dancing with the Blind with your creative spin. Submit to events@eyeslikemine.org. All ages are welcome. Your audio submission will be entered into a raffle for drawing. Please submit all entries before 5 PM ET on Friday, 2/24/23.
Dancing With The Blind Event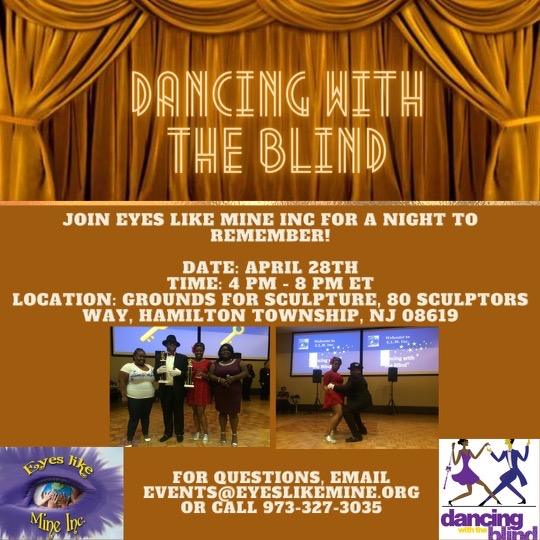 Eyes Like Mine is bringing you Dancing With The Blind. We are looking for dancers both, sighted and blind. Dancing With The Blind will be held on April 28th, 2023 at 4 PM – 8 PM ET. The venue for the event is Grounds For Sculpture, 80 Sculptors Way, Hamilton Township, NJ 08619. 

Access Link
Sculptors Way spans an entire block – both Nottingham Way and E State Street are crossroads. We are familiar with Access Link (both employees and visitors have used this service) and the drivers will typically drop off and pick up at the entrance of the Welcome Center. For more information call 973-491-4224 or visit https://accesslink.njtransit.com/hiwire#/auth/signinregister
Arrangements for Stay
Guests can check arrangements for stay by clicking below.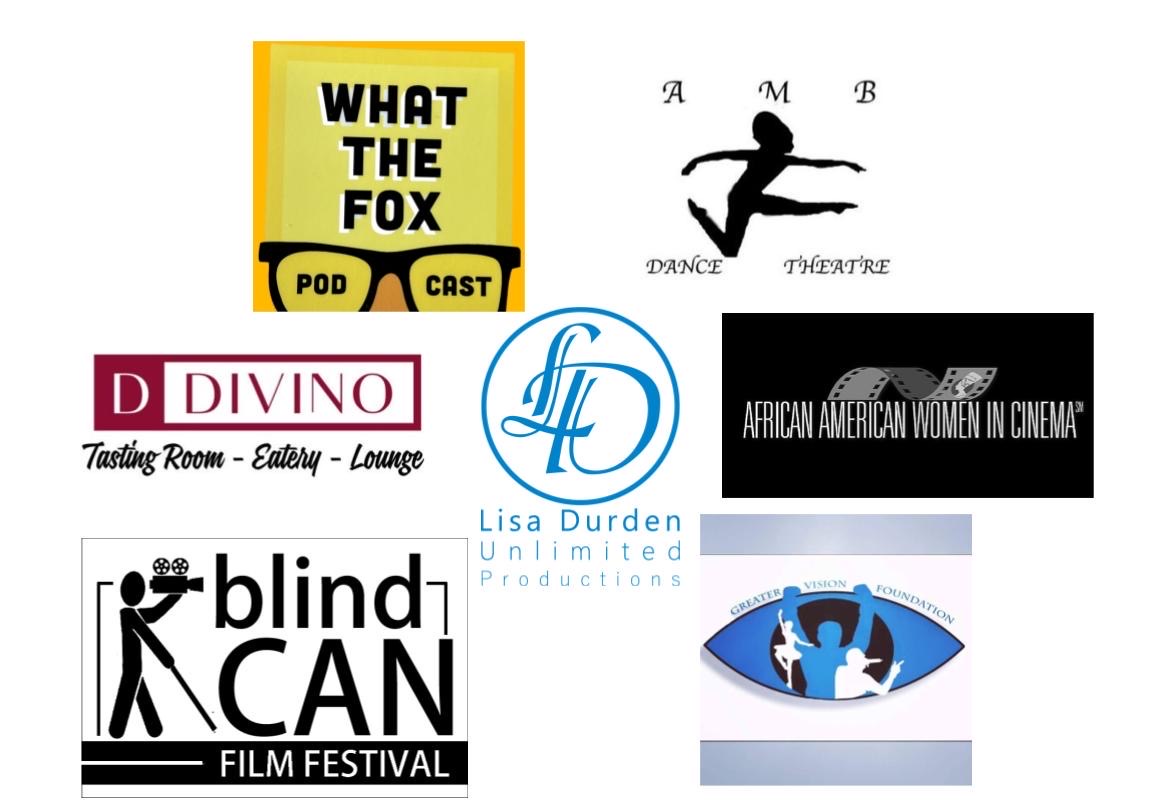 The event is sponsored by WHAT THE FOX PODCAST, AMB DANCE THEATRE, DDIVINO Tasting Room – Eatery – Lounge, Lisa Durden Unlimited Productions, AFRICAN AMERICAN WOMEN IN CINEMA, blindCAN FILM FESTIVAL and GREATER VISION FONDATION.
Dancing with the Blind Gallery
Omnium: A Bold New Circus is coming to town!
One day only March 5th 2pm.
Shea Performing Arts center
William Paterson University
300 Pompton Rd
Wayne, NJ
Box Office: (973) 720-2371
Fully audio described, this incredible show has something for everyone! Thrills chills and excitement along with incredible feats of skill and daring! Featuring Mr and Mrs G- Crossbow stunts, Evgeny Vasilenko balancing on a thin wire on his head, hilarious clowns, feats of strength by 7 time NCAA Champion Rik Daniels and the legendary King Charles Unicycle Basketball Troupe. Come early! Touch Table opens at 1 pm, Audio description begins 10 minutes prior to showtime. There is food and merchandise for purchase.
Here is a link for tickets: https://tickets.wpunj.edu/TheatreManager/1/tmEvent/tmEvent1523.html
Or call the box office at: (973) 720-2371
See you at the circus!
Community Day: Her Story/Our Story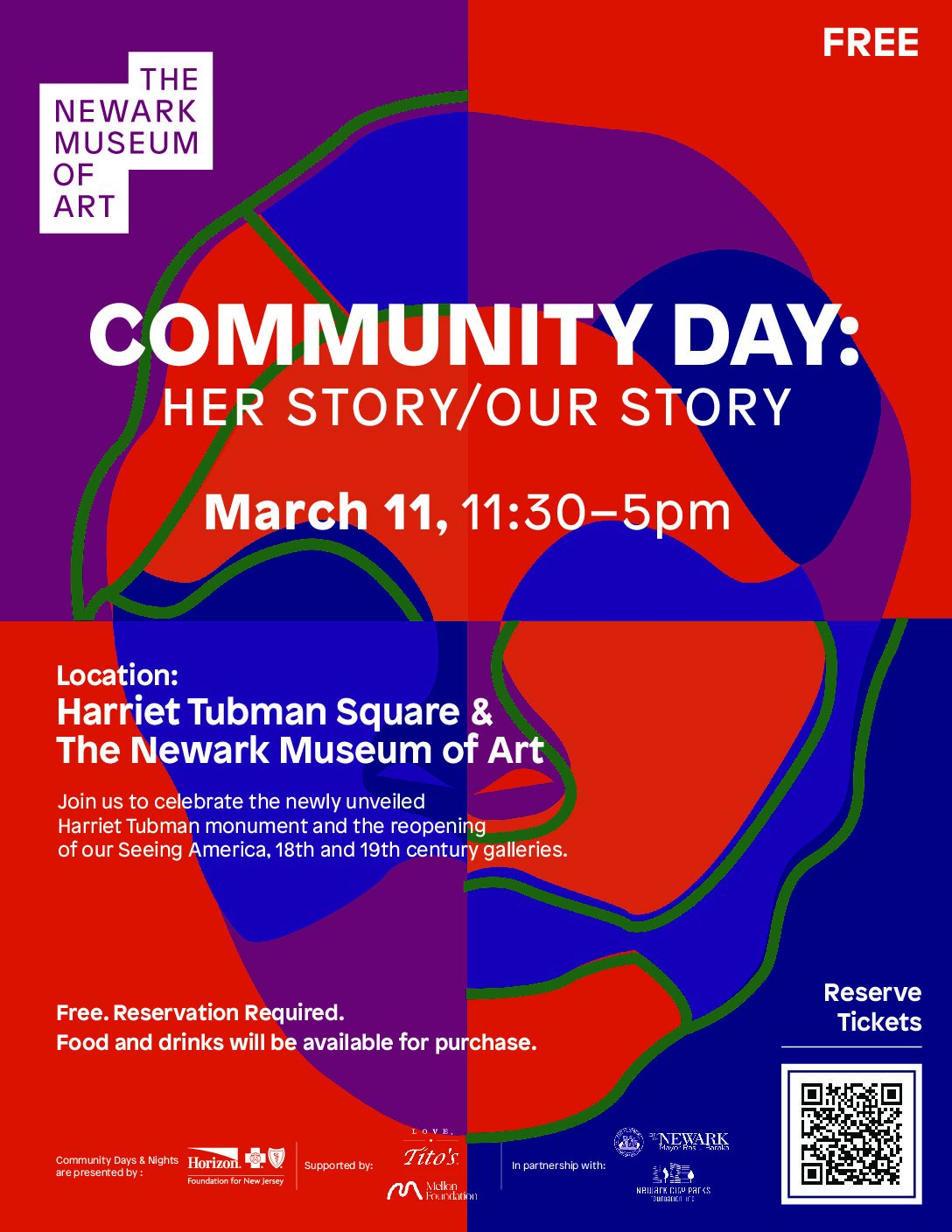 Jacksonwille Women's Expo
Find Eyes Like Mine at Jacksonville Women's Expo as the featured exhibitor. The event includes Fashion Shows, Beauty Treatments, 100's of Pop-up Shops, Haircuts, DIY Workshops and Tastings. Discover new styles, new inspirations, the best in beauty and new connections. Meet Loni Love, Captain Sandy and Abby Lee Miller.
Date: Sat-Sun, March 11th-12th, 2023
Time: 11:00 AM – 1:00 PM
Location and Address: Prime Osborn Convention Center, 1000 Water St, Jacksonville, FL 32204

A woman is the full circle – within her is the power to create, nurture & transform. Women's Initiative for Self-Empowerment (the WISE group) presents Inspiration & Motivation Sunday in recognition of Women's History Month.
We invite you to come and share how YOU are making history. Promote your business, brand or cause to help inspire. Admission fee is $10@door where you get speakers, vendors, music, free refreshments, food vendors and more.
Date: Sunday, March 19th, 2023
Time: 3:00 PM – 7:00 PM
Location and Address: IYO Banquet Hall, 703 S 12th St, Newark, NJ 07103

Community Wellness Fest: A Relaxing Experience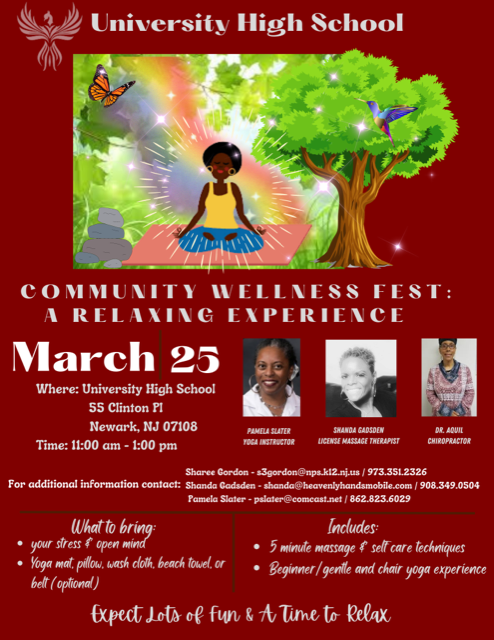 We invite you to attend a Community Wellness Fest: A Relaxing Experience. Bring your stress & open mind, Yoga mat, pillow, wash cloth, brach towel, or belt (optional). The event includes 5 minute massage & self care techniques, Beginner/gentle chair yoga expereince.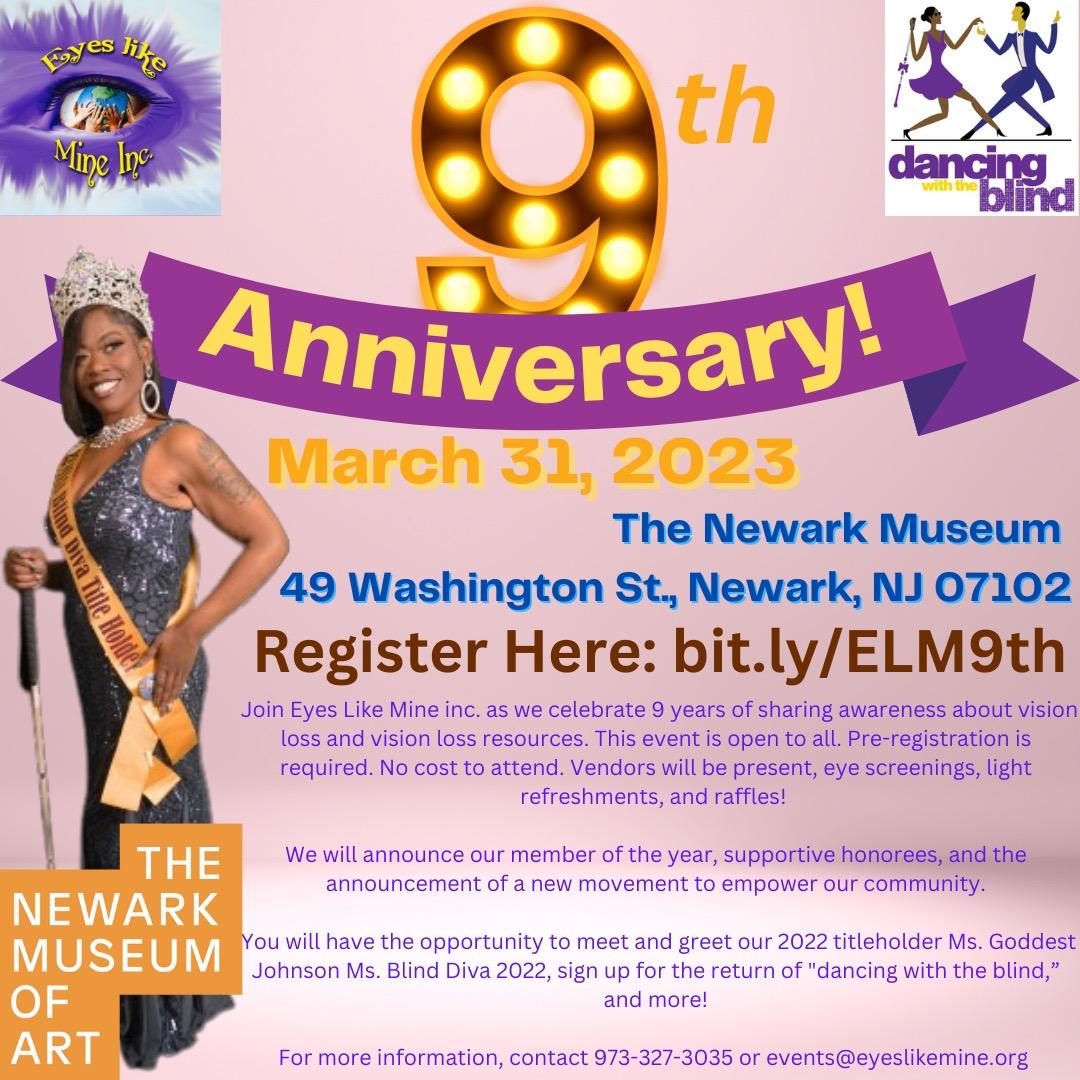 Join Eyes Like Mine Inc. as we celebrate 9 years of sharing awareness about vision loss and vision loss resources. This event is open to all. Pre-registration is required. No cost to attend. Vendors will be present, eye screenings, light refreshments, and raffles!
We will announce our member of the year, supportive honorees, and the announcement of a new movement to empower community.
You will have the opportunity to meet and greet our 2022 titleholder Ms. Goddest Johnson Ms. Blind Diva 2022, sign up for the return of "Dancing with the Blind," and more!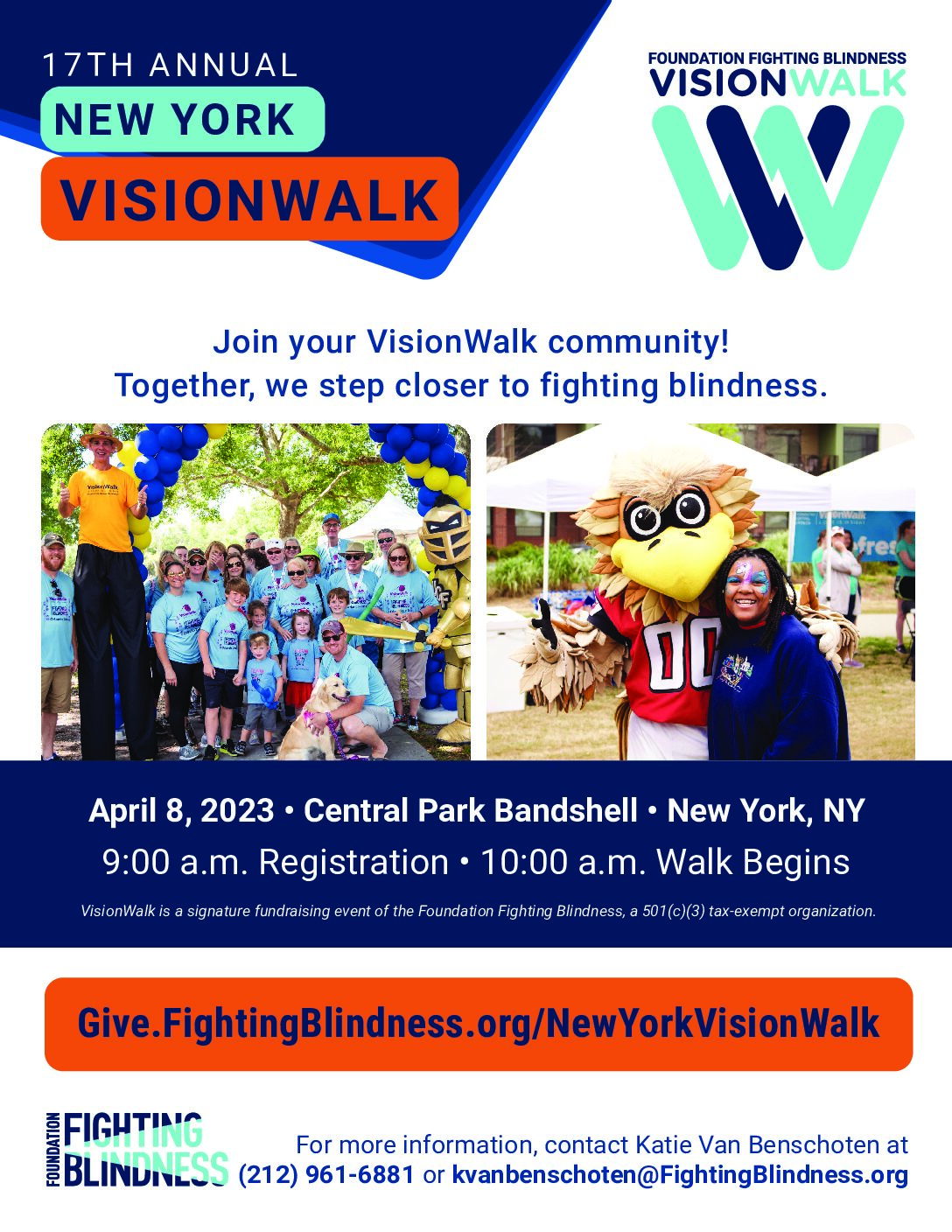 17th Annual New York VisionWalk powered by Foundation Fighting Blindness VisionWalk. Join your VisionWalk community! Together, we step closer to fighting blindness. VisionWalk is a signature fundraising event of the Foundation Fighting Blindness, a 501(c)(3) tax-exempt organization.
Ms. Independent
Crushing in the Kitchen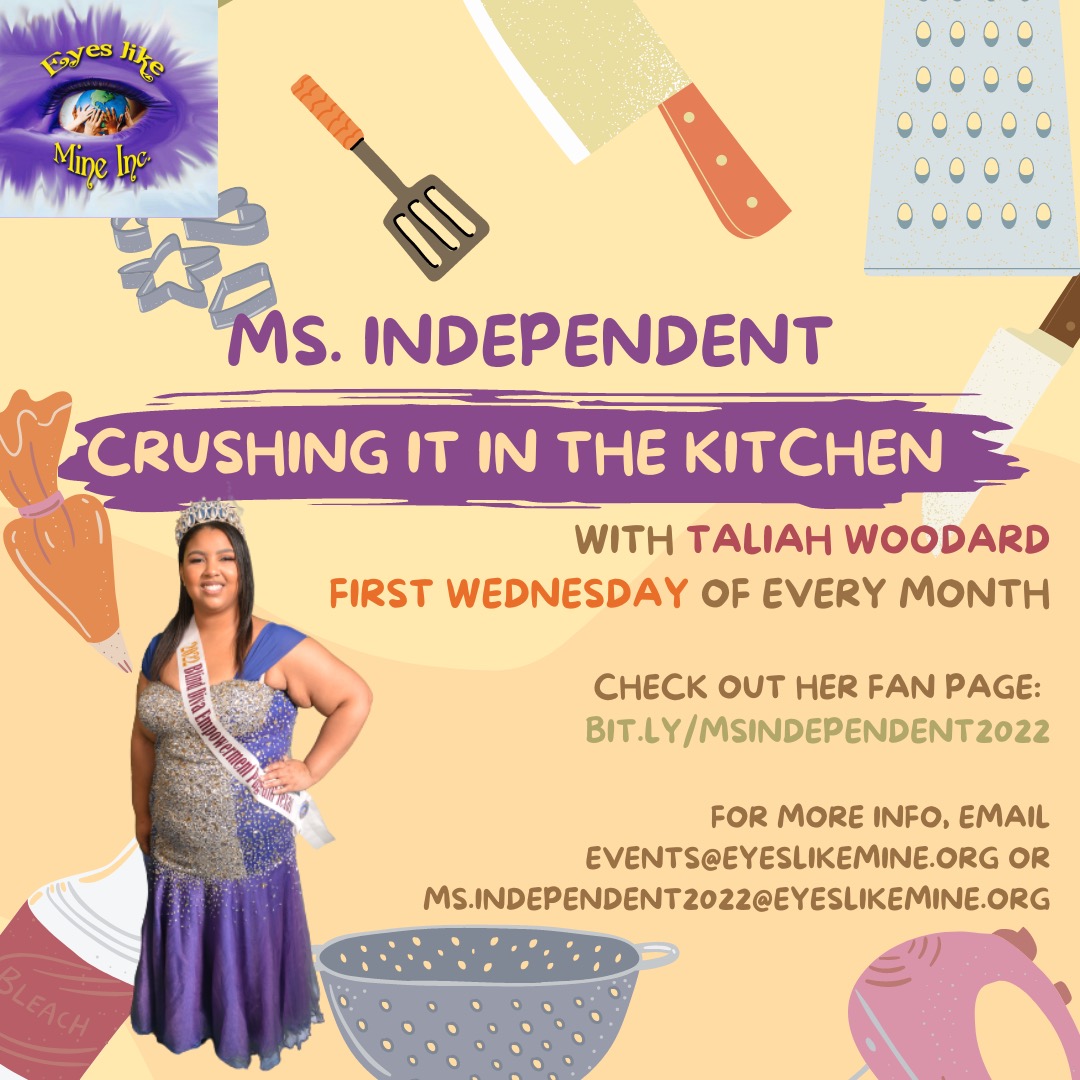 Eyes Like Mine presents Ms. Independent Crushing in the Kitchen, with Taliah Woodard. We invite you to join us every first Wednesday of every month. Click the below button to check out her fan page.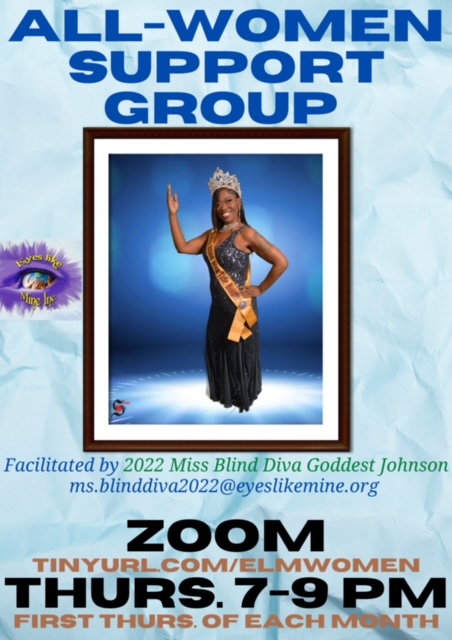 Eyes Like Mine presents an All-Women Support Group. We invite you to join us every second Thursday of the month. Meetings take place from 7 PM – 9 PM EST on Zoom, click the below button to join.  
Congratulations to Ms. Blind Diva 2022, Goddest Johnson!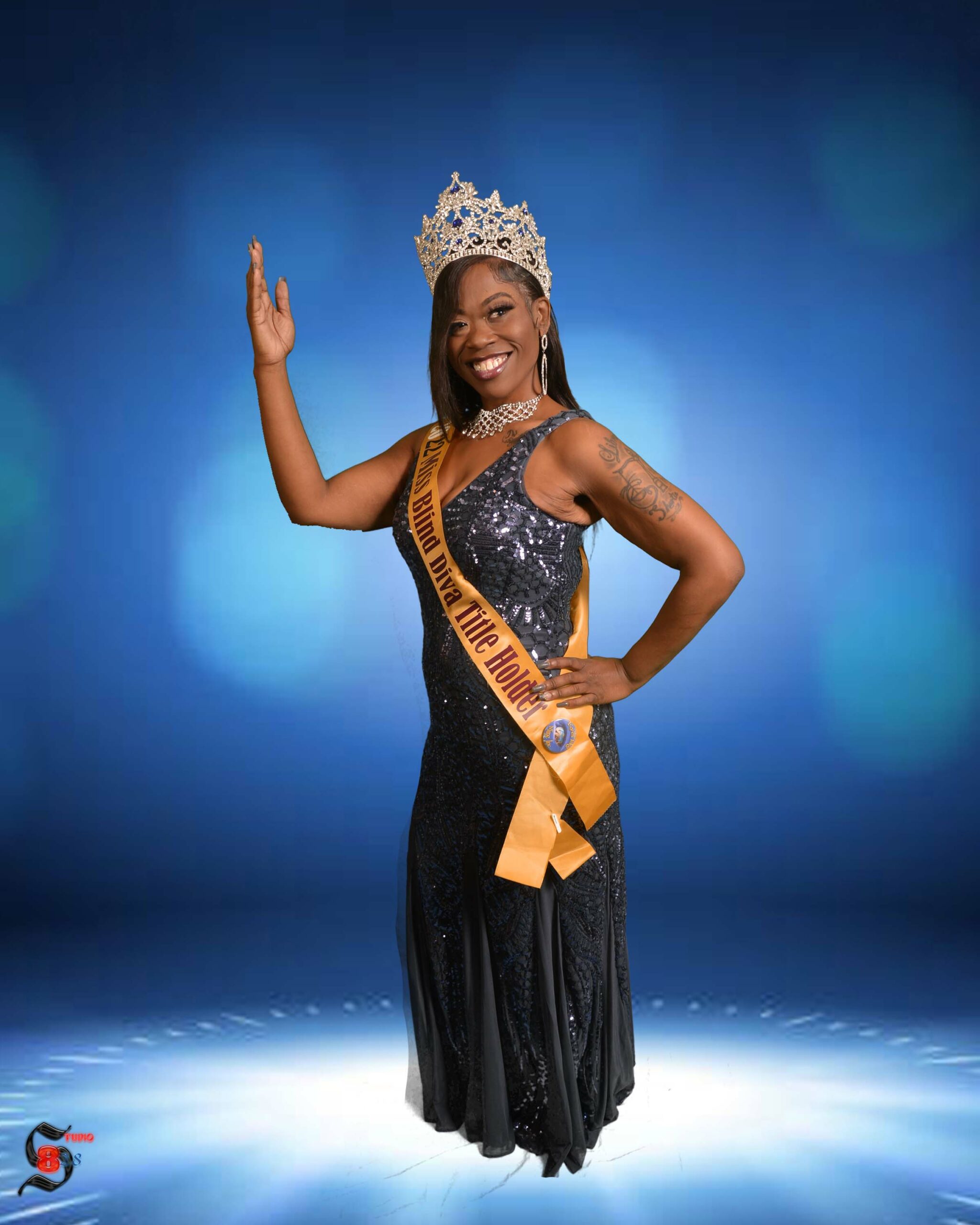 Goddest is well known as "FIGHT" (Faith Is Getting Her Through). Goddest soul provides a real-life comprehensive perspective or living an independent successful life beyond vision loss as she utilizes comprehensive skill training classes, resource training, community outreach events to educate as well as motivate and show what is possible to blind and visually impaired adults and children by allowing them to live a productive and independent life beyond vision loss.
Goddest travels the world and has done speaking engagement. May 15, 2022, she received an honorary and was the only honorary who was asked to speak to over 500 Women at "Women Of Orlando luncheon ("Orem by Monique Scott Nichols"). Many of her friends flew from various areas in the United States to see her speak that sold out the event. Rising above expectations is something that comes as no obstacle to Goddest. Goddest was born in September 1980 and spent the early part of her childhood residing in Chicago Illinois with her mother; a single parent who suffered from mental illness and a severe drug addiction. Goddest was the oldest of her four siblings in which her childhood took a major change when she was seven years old and her mother went to prison for life. At the most trying time in her life at this point she began her journey as becoming a client of the foster care system. By the age of 15, Goddest has had already live in over nine different foster homes and 11 different group homes. Due to several different circumstances Goddest has made the decision to become emancipated at the age of 16 and take on the responsibility of an adult.
Later she became the sole guardian of her sister and was determined to show her what could be possible with determination and staying focused. To set this example Goddest became the first one of her siblings to graduate from high school. When Goddest was 21 years of age her younger brother went to prison and was given 44 years, this left her devastated but shined a new light towards her future. At this point she was determined to keep reaching out and breaking the cycle to give others hope and something to look up to. Goddest, went on to obtain her bachelor's from NOVA Southeastern University which was one of the greatest accomplishments. Goddest needed a way to give back so becoming a nurse only seemed like a perfect idea to her. Perfect until life took another unexpected turn in February 2009. Goddest was involved in a tragic car accident which left her legally blind. In spite of all of Goddest obstacles that she face, the proudest moment was when she met the mother of NBA All-Star Shaquille O'Neal (Shack) Lucille O'Neil who interviewed her and was brought to tears while she stated to Goddest that Goddest was her inspiration and how Goddest touched her life in a major way by giving her the motivation to press through when most people did not know that she was struggling with her own visual impairment. Goddest shared that Lucille O'Neil was the first person who inspired her to share her story and she has been doing so since.
This amazing woman of God has many amazing stories that put tears to the eyes of the listener when she speaks."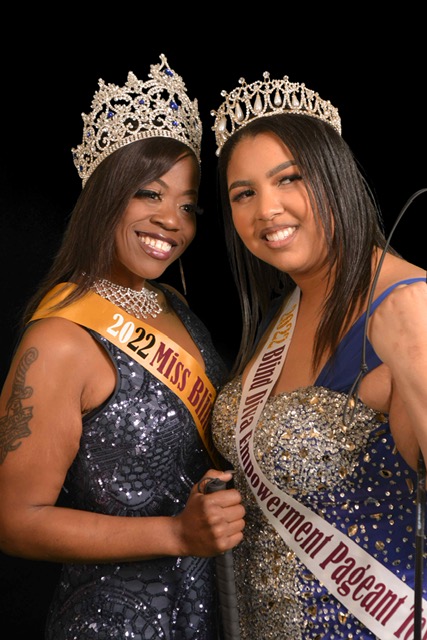 Goddest Johnson, Miss Blind Diva 2022 and Talia Wooder, Miss Independent 2022
Volunteer Internship Opportunity
Interested in our organization activities and want to be a part of Eyes Like Mine Inc?
Please fill out the volunteer internship application now and be a part of our Eyes Like Mine Inc mission.
Eyes Like Mine Latest Newsletter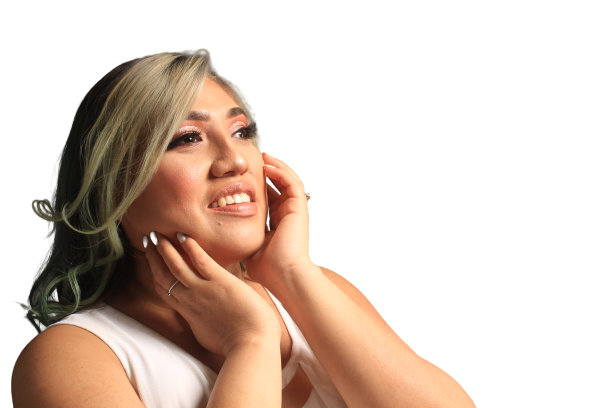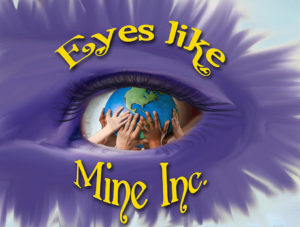 Support Eyes Like Mine
If you believe in our mission and would like to support the work we do, you can do so by making a donation today. No amount is too small!