MARK YOUR CALENDARS
The 2020 Miss Blind Diva Empowerment Pageant is taking place on September 19, 2020!
The 2020 Miss Blind Diva Empowerment Pageant is now accepting applications 
The mission of the Ms. Blind Diva Empowerment Pageant is to empower women with vision loss by providing tools to cultivate and encourage their daily life experiences.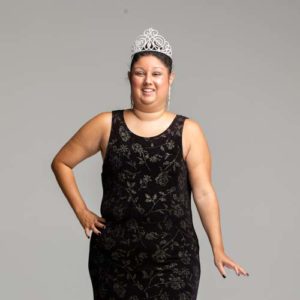 Meet Janelle Santana
Winner of The 2019 Miss Blind Diva Pageant 
One of the most beautiful things in life is to do what you love. For Janelle Santana, dancing is everything. Born in Brooklyn, NY, Santana has immersed herself in the art of dance since the tender age of four. She has honed her craft at various institutions throughout the tri-state region. On January 19, 2002, Miss Santana accepted an opportunity to participate in the mock audition for the Radio City Rockets'. 
Although Miss Santana spends a lot of time honing her craft as a dancer, she also excels academically. She is a graduate of the Freehold Borough High School and subsequently completed certificates in Early Childhood Education and Child Psychology through Penn Foster College. Miss Santana is currently working on a certificate to become a Guest Service Agent.  
 Miss Santana received a diagnosis of Retinitis Pigmmentosa at the age of seventeen. Retinitis Pigmentosa is a rare inherited degenerative eye disease that causes severe vision impairment. Janelle initially felt the challenges with Retinitis Pigmentosa were going to make her give up the one thing she loved more than anything in life. 
In October 2018, the director of the American Repertory Ballet of Princeton, New Jersey, offered Miss Santana a space to take some beginner Ballet classes. Since enrolling at this prestigious institution, she has been given the opportunity to speak to her fellow students' on her struggles with her eye disorder and how she continues to pursue her dream. Subsequently, Miss Santana was co-opted to the Advisory  Community board of the American Repertory Ballet of Princeton. 
Just when Miss Santana thought her dream was over and done with, she heard about the Miss Blind Diva competition hosted by Eyes Like Mine Inc. She entered, and later became the titleholder of the Miss Blind Diva 2019.
In closing, Miss Santana, is proud that she hasn't allowed her vision impairment to derail her goals. She hopes to eventually open a dance studio or work in the field of Health and fitness.
Contact Janelle
2020 Miss Blind Diva Application
Please submit the following application to be considered as a contestant for the 2020 Miss Blind Diva Pageant.
Prior to beginning the application, please note;
There is a 20 dollar submission fee, payable via paypal at the end of the application.
Please use your phone or other appropriate device to record a video of yourself independently doing something that you would do in your everyday life and describing why you believe that you should be the 2020 titleholders. After completing your video, please upload it to Youtube and share the the link in the appropriate spot below. Feel free to use music and be creative! For examples of videos submitted in the past, please visit our Youtube channel here. Again, there will be a spot to drop the link to your video in the application below. 
The deadline for submissions is July 31, 2020.