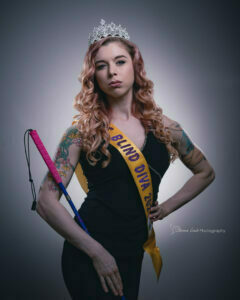 Meet Brittany Culp
Winner of The 2020 Miss Blind Diva Pageant 
Brittany Culp is a personal trainer, nationally qualified bikini bodybuilder, and internationally published model. She has also competed in powerlifting, and recently has begun learning jujitsu. Additionally, Brittany was recently crowned Ms. Blind Diva 2020 as the winner of the Ms. Blind Diva empowerment pageant. Some of her modeling publications include the 2019 summer issue of Strong Fitness Magazine, and the 2020 winter issue of Oxygen Magazine.
As her day job, she runs her own personal training business, Blind Fury Fitness. Blind Fury Fitness provides one on one personal training, as well as online training plans and nutritional guidance. Brittany also has a masters degree in counseling psychology, in addition to a bachelors degree in psychology and sociology. She believes that mental health and physical fitness go hand-in-hand, and contribute to the overall wellness of an individual. She has been a guest speaker on several podcasts, at conferences, and seminars to discuss mindset, physical health, and adjusting to blindness.
As a child Brittany was diagnosed with retinitis pigmentosa, which has caused her to lose her sight with age. Brittany has not let her blindness hold her back from becoming the best version of herself, and she encourages others to do the same no matter the circumstance. She wants people to understand that blindness is not a death sentence; it's just a different way of living life. " never stop living your life and trying new things", she adds.
Contact Brittany